Washburn Valley offers Jam Detection for Flexos, Die-Cutters, & Corrugators.
The most intelligent jam detection system on the market!
We use a new methodology to dynamically determine the allowable slippage as the speed of the machine increases, giving operators the confidence to run sheets at a faster speed.
Simple & Affordable
Easy Plug and Play Installation
With our new plug and play installation process, you can have Jam Detection up and running in just a few hours! Simply plug-in the PE connections to Jam Detection. Then, power the unit with 120v & wire the shutdown contact into your E-Stop circuit.
Jam Detection can also be added Horizon, our auto setup system.
Operator Interface for Flexos & Die Cutters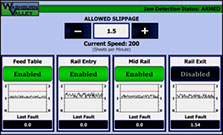 - 7 inch color touch screen for enhanced controls & production reports.
- Supports 1 – 4 photo eyes.
Optional: Add Watermark control for specialty folder gluers.
Operator Interface for Corrugators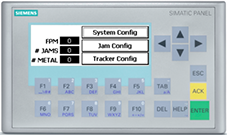 - Simple 3" panel with monochrome display.
Copyright Washburn Valley, Inc. © 2015