Glue Control - Simple & Reliable
A simple & reliable glue control system built on industry standard commercially available hardware.
Easy touch screen data entry. Touch screen can be mounted a variety of different ways to best suit your machine layout.
Additional Components
Encoder, wheel, bracket and cable.
Photo eyes, bracket and cable.
Glue Control - Main Screen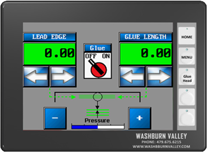 Note: Screen display will vary
depending on the operating mode.
You can also add Glue Control to Horizon, our auto setup system for die-cutters & flexos.
Copyright Washburn Valley, Inc. © 2015